St. Valentine's Day Massacre~ No Flowers or Chocolates Required
Here we go again...
If you are single and not happy about being single, this day is worse than not having anyone to kiss on New Year's Eve.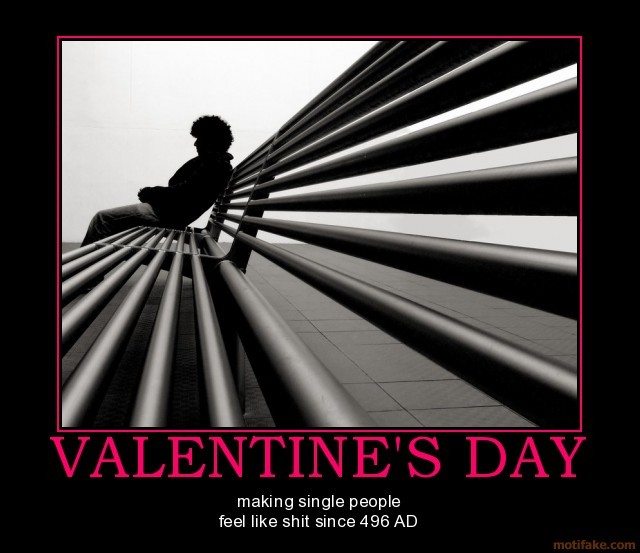 Why does it have to be so dreadful? The ones that have a really difficult time on Valentine's Day are in a relationship and don't get anything. No flowers, chocolates, fancy dinner, or even a freaking card. Yes, there are plenty of individuals that do not get something from their lovey.
T
he best? Is when you are single and that "secret admirer" sends a beautiful rose. Not really... it's creepy. Secret admirers are stalkers.
Back in the day, this holiday was more like a lottery for lovers. Y
oung girls would write down their names on slips of papers and put them in a bucket or urn. Urn sounds cooler... so urn it is.
Anyway, these names would be drawn by the young men. The drawer and drawee would then be coupled for the remainder of the celebration. Really? Talk about a blind date from hell!
Now for some this day is wonderful and sweet. Couples get married on February 14th all the time. Proposals are made...
Merchants love this holiday and why wouldn't they? Lots of money is spent. Lots. I have a friend that works at Victoria's Secret. Let me tell you guys, they see you coming from a mile away. They know you don't want to spend anymore time than you have to in their store and they are trained to take you to the most expensive stuff. You buy it. Tisk tisk. Missing out on a lot of sales. Shop ahead of time at their Semi Annual. Seriously. I won't even get started on the mark up on flowers, the not so fresh chocolates, and the over priced "romantic" dinner for two.
There is nothing wrong with wanting a little romance but it means more when it isn't demanded. Wouldn't you like your guy to surprise you with flowers out of the blue? Wouldn't you rather your gal meet you at the front door only wearing your favorite sports jersey and holding a six pack of beer on a Sunday afternoon? These kinds of gestures can be made ANYTIME of the year and are much more special than giving in to the pressure of a cliche.